PARKS AND RECREATION
RIVERDALE PARK
Walking along Broadview Ave. it is hard to miss Riverdale Park, a spacious area with breathtaking scenery. For over a century, everyone from dog walkers to athletes have enjoyed one of the most beautiful parks in Toronto.

The park provides a lush green foreground that sets off the bustle of the Don Valley Parkway and Toronto's beautiful skyline complete with the CN Tower. Pack a picnic or bring the soccer ball because Riverdale Park has tons to offer, including:



Soccer fields
2 baseball diamonds
Football field
Running track
Tennis courts
Outdoor swimming pool
Outdoor hockey rink
Back to top
ROYAL CANADIAN CURLING CLUB
131 Broadview Ave.
Toronto, Ontario
M4M 2E9
(416) 461-0251

royals@rccc.on.ca

www.rccc.on.ca

"Where Friendship Is A Tradition"

The Royal Canadian Curling Club is one of the oldest and most diverse curling facilities in the Greater Toronto Area. Built in 1906, the facility has been home to the Royal Canadian Bicycle Club, skating and hockey. Since 1953, the club has devoted itself exclusively to curling.

Whether you are an established curler or have never been on the ice, the Royal Canadian Curling Club offers something for everyone:

Men's competitive house leagues
Women's competitive house leagues
Mixed recreational and competitive leagues
Instructional youth classes
Curling Camp for Kids
Back to top
---
CULTURE AND RELIGION
CHURCHES
Broadview Gospel Hall
194 Broadview Ave.
Toronto, Ontario
M4M 2G5
416-757-7019


Debre Selam St. Michael Ethiopian Orthodox Tewahdo Church
125 Broadview Ave.
Toronto, Ontario
M4M 2E9
416-778-1887


Holy Eucharist Ukrainian Catholic Church
515 Broadview Ave.
Toronto, Ontario
M4K 2N6
416-465-5836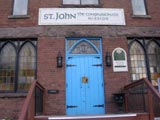 St. John the Compassionate Mission
155 Broadview Ave.
Toronto, Ontario
M4M 2E9
416-466-1357


Back to top
CHINATOWN EAST
Located at the intersection of Broadview Ave. and Gerrard St., Chinatown East is a lively area showcasing the diversity found in Broadview.

Though not as large as the Chinatown located in downtown Toronto, Chinatown East is no less vibrant. An abundance of open air markets, shops and restaurants can be visited offering a wide variety of food and merchandise.

The Chinese Chamber of Commerce (East Toronto) is working hard to give the area a "face lift" and the key project for this revitalization is Toronto's first traditional Chinese archway. Read more about the project here: Toronto Chinese Archway.


Back to top
RIVERDALE PUBLIC LIBRARY
370 Broadview Ave.
Toronto, Ontario
M4K 2M8
416-393-7720

Click here to view more information.

Hours of operation:
Monday to Thursday 10:00 a.m. – 8:30 p.m.
Friday 10:00 a.m. – 8:30 p.m. (September to June)
10:00 a.m. – 5:00 p.m. (July and August)
Saturday 9:00 a.m. – 5:00 p.m.
Sunday Closed

Back to top


---
HISTORICAL SITES
Old Don Jail
Gerrard St. E on Broadview Ave.

The Old Don Jail was built between 1862 and 1865. The building itself was designed by the architect William Thomas in 1852 and is one of few pre-Confederation (1867) structures that remain in Toronto.

While the Old Don Jail is a historical site, the building was a fully operational jail. The facility holds remand prisoners for about 30 to 90 days, and does not keep anyone found guilty of an offence.

The Old Don Jail was closed in 1977.

Trivia: A gang that escaped from the Don Jail a second time was CBC's first TV news story.
Click here to view the story.

Back to top


John Cox House - Oldest House in Toronto
469 Broadview Ave.
Toronto, ON

The John Cox house is thought to be from 1807 or before, and is still on its original site. It is considered to be the oldest house in Toronto.


Back to top
---
RESTAURANTS
Dangerous Dan's Diner
"The Burgers are Bigger at the Double D"

www.dangerousdansdiner.com

Comfortable seating, down-to-earth decor, massive burgers. With its standard 8 ounce burgers, and gigantic 24 ounce burgers Dangerous Dan's has the solution for the empty stomach. The Quadruple C is a 24 ounce sight to behold, never mind consume. Delicious milkshakes and sides like onion rings can accompany your feast.

For those in the area, they deliver too.

Hours of operation: 11 a.m. – 12 a.m. 7 days a week
Delivery hours: 12 noon until 12 midnight

714 Queen St. East (at Broadview Ave.)
Toronto, ON
416-463-7310

Back to top


The New Pepper Chili Szechuan Restaurant
Licensed Under L.L.B.O.
Fine Chinese and Vietnamese Cuisine

Great food describes this restaurant. Pepper Chili's has a huge menu ranging from congee, dim sum, pho, to large dinner items such as Peking duck and Szechuan Style Lobster.

Lunch specials are $4.99 and are available from 10:30 a.m. to 4:30 p.m. (For take-out add $1.00.) They come with pop, soup of the day, and rice. Dine in and enjoy the subtle decor, take out, or phone in for delivery.

Hours of operation: 10 a.m. – 11 p.m. 7 days a week
Free delivery on orders over $20.00 (10% off pick-up orders)

368 Broadview Ave.
Toronto, ON
416-466-9898

Back to top


Spring Rolls
The newest addition to Broadview's unique dining experience does not disappoint. Since 1996, Spring Rolls has been offering quality pan-Asian cuisine at low prices across Toronto. Their delectable menu choices and striking dining room decor is sure to make one's experience at Spring Rolls unforgettable.

348 Broadview Ave. (at Gerrard)
Toronto, ON
(416) 465-7655

www.springrolls.ca

Hours of operation: 4 p.m. – 11 p.m. Monday to Saturday. Sundays closed.

Back to top