WELCOME TO BROADVIEW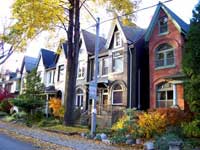 On the east end of Toronto, Canada runs Broadview Avenue, a street encompassing the beauty and richness its city offers.

Broadview Avenue travels along the east side of the Don River and it is one of the major streets in the neighbourhood of Riverdale.

It is home to a rich history, an expansive and beautiful park, and wide range of businesses and restaurants.


Riverdale Art Walk (RAW)
The Riverdale Art Walk is a two day weekend-long event held on June 3rd and 4th between 11am and 6pm.



Click here to read more.




Instructional Skating Programs:
Location: Riverdale Park East Rink, Broadview at Montcrest.

All classes begin January 16, 2006.



Click here to read more.
UPCOMING EVENTS

• Riverdale Art Walk (RAW)
• Instructional Skating Programs
FEATURED ATTRACTIONS

Dangerous Dan's Diner